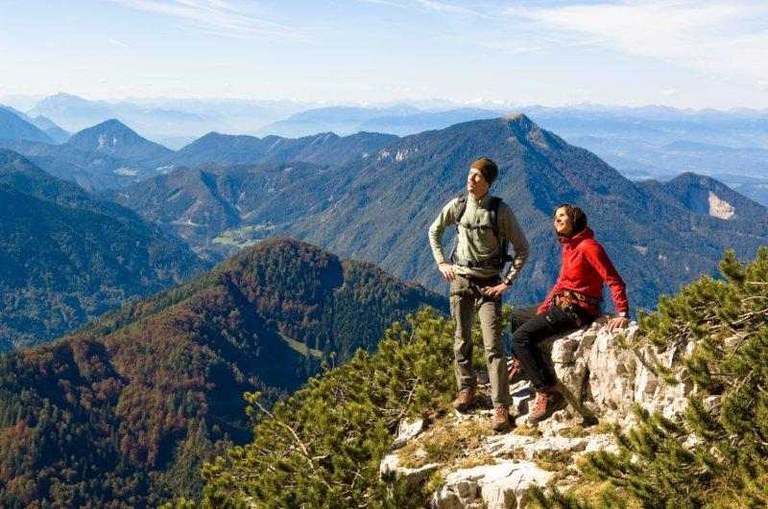 Mežica (Slovenia) and Peca/Petzen (Austria), 21 September 2018 – Slovenia and neighbouring country Austria pride themselves on having successfully implemented a number of cross-border projects, including EUfutuR, NaKult and Nature Game. People who participated in the event ''Experiencing the cross-border geopark'', the second in a series of three events marking this year's European Cooperation Day which are co-organised by the Government Office for Development and European Cohesion Policy, experienced firsthand the results of these cross-border projects.  
A group of more than 360 participants gathered in Mežica in Slovenia to take part in an event organised by the Government Office for Development and European Cohesion Policy in cooperation with the programme partner Amt der Kärntner Landesregierung and the project partner Geopark Karavanke/Karawanken. They were greeted by mag. Nina Seljak, Head of the Managing Authority of the programme who underlined the relevance of cross-border programmes for a balanced and sustainable development of participating countries and their contribution to the headline goal of EU Cohesion Policy of advancing economic and social cohesion. ''The events of this year's European Cooperation Day, as this one here in the Koroška region, are taking place all over EU to show the EU citizens that the borders we share unite us, not divide us'', added Seljak.
The participants were also addressed by mag. Suzana Fajmut Štrucl, Director of the Podzemlje Pece d.o.o., and mag. Gerald Hartman, Manager of the Geopark Karavanke/Karawanken. The participants then set off on a ride through the underground of the Peca/Petzen mountain – the mine of Mežica – and learned about the project EUfutuR, which is co-financed by the European Regional Development Fund under the Cooperation Programme Interreg V-A Slovenia-Austria. They continued to cross the border, and took a cable car up to the Peca/Petzen mountain. After the presentation of the projects NaKult and Nature Game and a short panoramic walk, the participants were greeted and addressed by Austrian and Slovene representatives, the 2nd President of the Regional Parliament, Mayor Jakob Strauß, and Dimitrij Pur, Deputy Head of the Managing Authority of the programme. The participants got the opportunity to socialize, network and share experience in a relaxing and pleasant atmosphere of the Peca/Petzen hut. 
The events taking place in the context of the European Cooperation Day under the auspices of the European Commission and Interact Programme are being held for the seventh time in a row. This year's slogan ''Painting our future together'' underlines the achievements of territorial cooperation and its impact on shaping common future within the EU. 
For more information, please visit www.si-at.eu