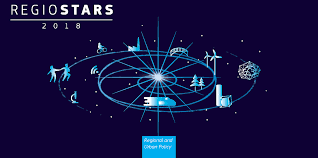 RegioStars Awards is a yearly competition of the European Commission that selects most innovative and inspiring regional projects funded by EU Cohesion Policy.
The 2018 RegioStars Awards will reward the best Cohesion Policy projects in five categories. Out of the 121 nominated projects, the IRON-AGE-DANUBE project, which is funded by the Interreg Danube Transnational Programme, was selected as a finalist in the award category ''Investing in cultural heritage''. The project, whose Lead Partner is the Universalmuseum Joanneum from Austria, brings together as many as 20 partners from 5 Member States, including three partners from Slovenia to deal with complex prehistoric landscapes rather than individual sites, and develop new strategies and methodological tools for their protection, presentation and promotion.
Find which 21 finalists made it to the 2018 shortlist, see for yourself which your favourite project is, and cast your vote until 7 October here.