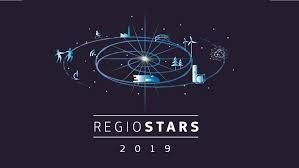 Scientific Research Centre Bistra Ptuj, which celebrates its 25th anniversary this year and acts as the Lead Partner of the project CITYWALK, has received a prestigious European Commission award which honours outstanding Cohesion Policy projects to become the first Slovenian institution to win a REGIOSTARS award. 
The REGIOSTARS are the Europe's awards for the most innovative regional projects. As many as 199 projects competed for the award in five thematic categories; the winners were chosen by an independent expert jury and the public through a public online vote – 235,000 EU citizens from the 28 Member States voted for their favourite project. The public choice award was given to CITYWALK from the Danube Transnational Programme which helps ten cities in the Danube Region become more walkable, liveable, safer and healthier places. The project competed in category 4 ''Building climate-resilient cities''.
Scientific Research Centre Bistra Ptuj staff is proud and happy to build the idea that became the driving force behind the project CITYWALK and to have 16 other partners from 9 countries join them and jointly implement the project. The project is implemented under the Danube Transnational Programme 2014-2020 and received a contribution from the European Regional Development Fund amounting to EUR 1,669,430.16.  
Read more: